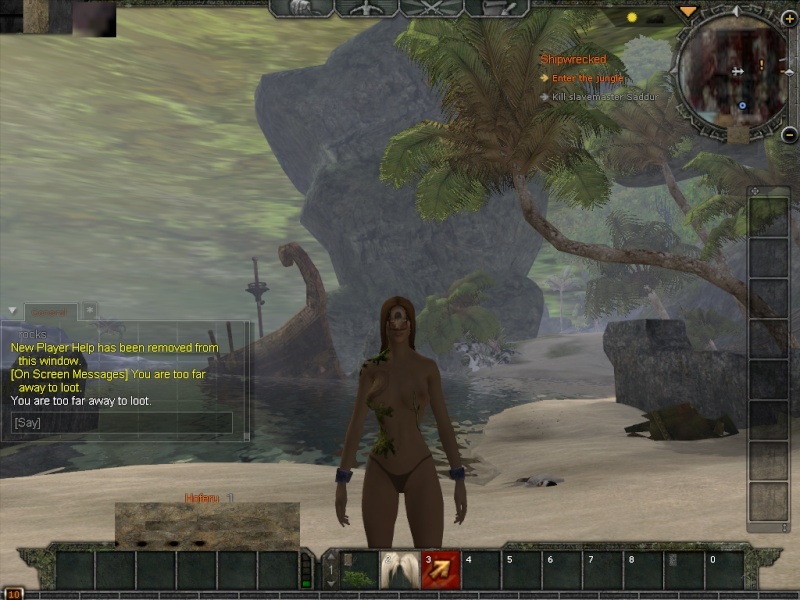 Alright since the patch on Tuesday I cannot play the game with any stability. Let me post a sample picture of just 1 issue of what is happening to me...
*notice: the leafing on the character, the sky, the toolbar icons, the face tattoo is jacked up, the texture issue above toolbar, and stop staring at the tits... *
-
The computer also does this now when playing-
1. Complete freeze
Control-alt-delete takes me to windows, where I then click back onto the AoC program at bottom. When I re-enter the game I can play for a few minutes before I have to control-alt-delete again.
2. Complete freeze + added bonus of blue screen
As of above but crashes to a blue screen with a bunch of numbers/characters for half a sec, then computer shuts down.
Upon reloading windows acts normally.
3. When I select low settings and click apply the screen goes black. I loose all graphics but I am still in game. I click on high settings and it all comes back.
What I have done -
Disk Defrag
Clean Disk
Verify/repair with no issues found.
Computer specs -
E4400 dual core @ 2.00
DDR2 4 gigs Ram
Nvidia Geforce 8500 gt
Windows XP
So you all going to tell me to go get a better PC? Anyone else getting any of this at all?